We have several programs geared for different stages in your business. These programs have a clear structure, yet are developed to be flexible to address your specific issues. The programs include one-on-one direct on-site meetings, telephone meetings, on-site sessions with teams, and training when necessary.

Sustaining Family Business

is a program that deals with both business and interpersonal issues. Within family business, attention needs to be paid to both areas to ensure the organization will be successful through the next generation.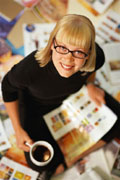 Expected results
Family members will work together in a more cooperative manner
The business will be structured in a way that best fits the skills and abilities of management
The infrastructure of the business will be strengthened to support its growth
Smooth transfer of business from one generation to the other
Key element

Successful transition of family business must address the needs of all members. Building better communication channels and business processes will make the transition smoother.

Growing Your Business Quick and Smart

is a planning and implementation program for small businesses to meet revenue and profit goals. It is based on an in-depth analysis identifying root issues, development of a blueprint for growth, and enhancement of the management team's leadership. Implementation of a monitoring process of the changing needs of the marketplace is included to sustain growth.

Expected results
Sales and marketing programs that generate a consistent level of new business
Management team in place for effective leadership
Operational structure that is solid to support growth for the long-term
Operation that is profitable built on cost-effective decisions
Key element

Small business advice ensures growth and profit are managed with the correct level of finances and resources to maintain the quality offerings customers expect.

The Excel Lead Generation Program

is a comprehensive sales and marketing program providing the skills and tools for small businesses to be successful. It is based on an in-depth analysis of current programs and resources, development of new programs to fill existing gaps, implementation by a motivated, well-trained team with the right tools.

Expected results
Increases in sales revenue
Higher profit margins by selling the optimum mix of product and or services
Sales team that is more effective, motivated and stable
Programs supported by consistent internal and external communications
Key element

The program's marketing consulting services is integrated to encompass R&D, marketing, sales and customer service for the most comprehensive solutions for long-term success.

Jump Start Your New Business

is a systematic planning and implementation program targeted to new business owners and entrepreneurs. It focuses on developing a road map by identifying the best target markets; reaching them using economical tactics; and creating systems that ensure a consistent positive customer experience. It is complete with the most appropriate business development strategies to drive success.

Expected results
Needs and requirements of target customers are identified
Small business plans developed to serve as roadmaps
Products and services positioned to address customer needs
Business grounded in an economically viable revenue model
Operational systems that are reliable and run smoothly
Key element
A solid structure is created that increases the likelihood that the new business will grow into a profitable enterprise for the long-term.
ProfitPath is a program that will provide you information on what your business is worth now. This powerful knowledge will prepare you for a profitable future exit. The program assesses both financial and business information and provides the tools to give you control over your business and financial future.
Expected results
Gain insight for deciding direction for your business's future
Create more value to your business – earn more now, net more later
Plan your financial future; ensure you get there
Guarantee your family's security through protecting and enhancing your assets
Key element
This assessment process results in a valuable report which will include an actionable roadmap to get you moving forward right away. Knowledge is power and allows you to leverage your strengths and identify improvement needs putting control back in your hands.
If any of these programs resonate with your needs, click here.